About 1 in 5 accidents in India result from the use of counterfeit parts according to a study by Nielsen and ACMA. Counterfeit part makers usually target the most frequently replaced parts: brake pads, clutch components, air, oil and fuel filters, and timing belts.
These are critical parts that impact the safety and durability of your car. Consider the brake pads—the original part from Hyundai Mobis doesn't cost a world, so you would, at the most, save a few hundred rupees. The downside, however is, so much more: a counterfeit part can put your life at risk.
Counterfeit auto parts not only damage your car and null the warranty, they can even put you in dangerous, life-threatening situations.
The damage counterfeit parts do doesn't stop with damage to the car or compromised safety. Installing them defeats the very purpose behind going for non-genuine part- parts: saving a little bit of cash.
How? Stay with us for a bit.
Depreciation is one of the biggest expenses when comes to car ownership. A car looses about 30 percent to 50 percent of its value in three to five years. That is a big number. Cars that are not serviced at authorized service station loose value faster than the ones that do. In short, using genuine parts helps with resale value of a car.
In a nutshell, counterfeit parts don't save money, they bleed you of your money in ways you never realize.
But figuring out which part is genuine and which is not is easier said than done. Genuine parts for Hyundai cars are manufactured by Hyundai Mobis. The key to spotting a genuine Hyundai Mobis part lies in the MRP label which has built-in security as shown in Exhibit 1.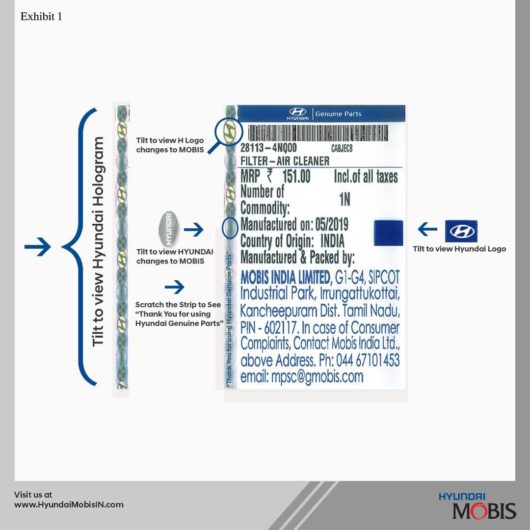 Step 1: Tilt the label to view Hyundai logo.
Step 2: H logo will change to Mobis, upon tilting.
Step 3: Also, Hyundai changes into Mobisupon tilting the label.
Step 4:  On the right side of the label, the blue box turns into the Hyundai logo upon titling.
Step 5: Scratch the label and wait for the following message: "Thank you for using Genuine Part". –
So a careful examination of the Mobis MRP label, meeting all security checks, is a good way to find if it is genuine part.
In addition, here are some general tips to help you spot counterfeit parts:
Quality of Packaging: Genuine parts usually come in high quality packaging with some sort of 'security' feature built in to the label etc.
Typos and Errors: Yes, spelling and grammar too often offer clues to the genuineness of a part. Look closely at the printing on both the package and the instructions. If there are typos or misspellings, inspect the part carefully. It may be a counterfeit.
Comparison with Existing Part: You could do a quick comparison with the part you are replacing. Check if the fasteners match, if the part seems to be of the same weight.
Price Comparison: Often the price itself hints at the origin of the part. If the price is significantly lower than what it would normally cost, then it is quite likely that the part is not genuine. The original parts for Hyundai come under the brand name HyundaiMobis and their prices can be checked by calling up any authorized Hyundai service centre/ Mobis Distributors
Beyond this, a reasonably fool-proof way to ensure you always get genuine parts is to get your car serviced at Hyundai's authorized service stations.
Genuine parts installed at Hyundai's authorized service stations not just help with durability and safety of your Hyundai, they also go a long way towards building a service record that gets you a good price whenever you sell your car. Yes, genuine parts save money as well lives.
For information on Hyundai genuine parts by Mobis,click here.
Want to see your photo feature about that exciting road trip published on Cartoq? Share your details here