Brand: Honda
Model: City
Generation: 4th generation, 2014-Till Date
The 4th generation Honda City was launched in 2014and is continuing to sell on the same platform since then.
Overview
City sales have been strong in the new car market and this is reflected in the used car market as well.
Based on the used car listings database we monitor across used car sites, Honda City typically accounts for 26.41%in sedan listings. This makes it the best-selling car in the used car market in the sedan segment.
Basically, the strong sales of the new car gets transmitted to the used car market. In the past two months, there have been 2,594 City across the Top 8 cities that we track the data for.
The prices of the used City cars vary across variants, with the median price of the entry-level variant being Rs 487,937 and the top-end variant fetching Rs 1,042,475.
Of course, there is a lot of variation in the actual price you can get, based on other factors. The factor that influences the price most is usage – how many kilometres your car has done. For instance, for a City car that has done less than 30,000km, the median price could be Rs 791,000, while if it has done up to 60,000km, the price would be lower, at Rs 590,000.
Here is an indicative table for the [Delhi-NCR] used car prices, and how they vary based on mileage.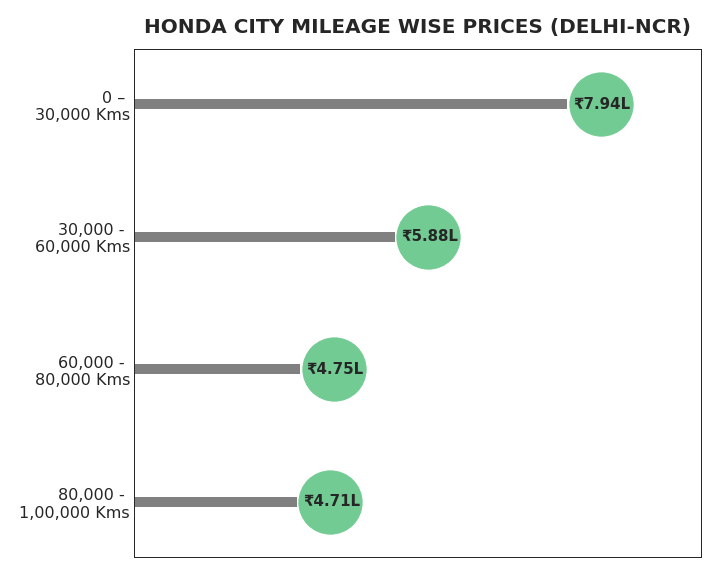 Look at the chart above for indicative price you can get in the market, depending on the kilometres done. On average, Honda City depreciates less than the Verna or Ciaz.
Our Price Advice
Great driving dynamics and ride quality, combined with ample space for 5 and Honda's brand appeal made the 4th generation Honda City the sedan to beat in its segment. That has meant it beats Maruti Ciaz and Hyundai Verna, its two closest rivals, on resale price. Check out the Best Deals for Honda City sellers so far this month.

The price you could get for your car could however get hit if your car has the following issues:
Scraped underbody
Suspension issues
If you don't have these problems in your car, or if you can fix some of these issues if they exist, you will get a better price.
For price trends for Honda City 4th generation (2014 onwards), click here
Want to see your photo feature about that exciting road trip published on Cartoq? Share your details here