Travel, they say, makes a person better at many levels. We agree and can attest to the fact that it has the same effect on cars. Don't believe us? Then answer is this. What do you think is the secret ingredient in Toyota's formula for consistent, universal success?
It's travel. Extensive travel. The kind of extensive travel that covers five of the seven continents in the world. The kind that can only be powered by a philosophy that guarantees perfection.
To the world, the 5 Continent Drive may well seem as an ongoing on-road activity that has covered Australia, America (North & Latin), Europe, Africa and Asia. But for Toyota it's the pursuit of its philosophy, Genchi Genbutsu – a Japanese term that translates to Go and See.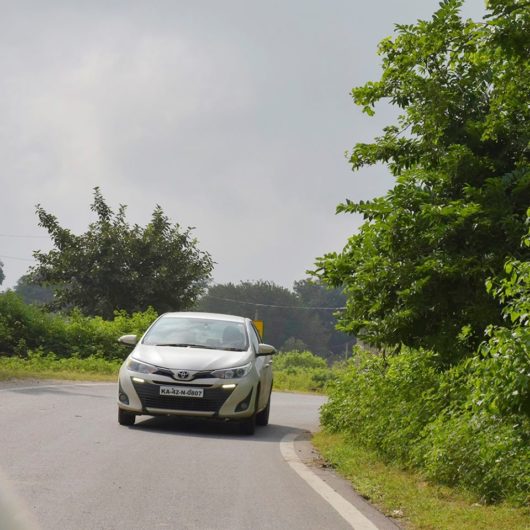 Go and see what, you ask? Terrain and road conditions, of course; from the Toyota Kirloskar Motor Plant at Bidadi in Karnataka, all the way to New Delhi — taking in Maharashtra, Gujarat and Rajasthan along the way.
In terms of road diversity, the convoy — which was flagged off in September — zoomed over the smooth highways down south, threaded across the dizzying switchbacks of the Western Ghats, tackled post-monsoon potholes in cities, and suffered the gruelling 'stop&go' traffic in metropolises.
The journey was not all fun and games but was in fact a learning experience for the drivers, experts, employees, technicians, and partners — who together, made up the team. They experienced first-hand the challenges that millions of Indian car owners face on a daily basis; it truly was a study that cut across states and car segments.
We have always been a customer-first company. And behind the Toyota 5 Continent Drive's exhilarating 10-day journey across India was a singular, unified goal — to make ever-better cars for you. #5ContinentDrive #ToyotaIndia #Toyota

Toyota India ಅವರಿಂದ ಈ ದಿನದಂದು ಪೋಸ್ಟ್ ಮಾಡಲಾಗಿದೆ ಶುಕ್ರವಾರ, ನವೆಂಬರ್ 29, 2019
Toyota's flagship, the LandCruiser 200, led the convoy; followed by the Innova Crysta, Innova Touring Sport, Fortuner, Camry Hybrid, Corolla Altis, Yaris, and the recently launched Glanza. Additionally, the Suzuki Vitara Brezza that accompanied the convoy was a testament to the close relations that Toyota and Suzuki share in various markets across the globe.
This crucial information is the bedrock on which Toyota has built its world-class manufacturing facilities. And it is the Genchi Genbutsu philosophy that underlines its best practices of quality control. The result is there for all to see: Cars built to rule undiscerning roads and serve discerning buyers.
Toyota 5 Continent Drive – Made for India

Toyota and India – a beautiful 20 year long journey with many more miles to cover. And the 5 Continent Drive was essential for us to understand this wonderful country's ever-changing nature. #5ContinentDrive #ToyotaIndia #Toyota

Toyota India ಅವರಿಂದ ಈ ದಿನದಂದು ಪೋಸ್ಟ್ ಮಾಡಲಾಗಿದೆ ಸೋಮವಾರ, ನವೆಂಬರ್ 25, 2019
In Toyota's books, though, a perfect car alone does not make a happy owner. That's why the 5 Continent Drive team also reached out to dealers and customers during their journey through India. Getting the whole picture is what allows the company to ensure a seamless, even pleasurable, after-sales experience.
Toyota considers India as one of its most important markets, and it's such on-ground activities that allow our existing customers and prospective customers a peek into the company's dedication in ensuring the highest QDR (quality, durability, reliability) standards.
Toyota – 5 Continent Drive – Ever Better Cars

Roads train people, people build cars. This is the mantra of the 5 Continent Drive, which enables our team to travel passionately throughout the world with our signature go-and-see philosophy (genchi genbutsu) to find solutions that help make ever better cars for our customers. #5ContinentDrive #ToyotaIndia #Toyota

Toyota India ಅವರಿಂದ ಈ ದಿನದಂದು ಪೋಸ್ಟ್ ಮಾಡಲಾಗಿದೆ ಸೋಮವಾರ, ನವೆಂಬರ್ 18, 2019
If you still don't believe us, we have two words that could help change your mind: Genchi Genbutsu.
Want to see your photo feature about that exciting road trip published on Cartoq? Share your details here